"Infertility" is a term used to describe the inability of a couple to get pregnant or the inability of a woman to carry a pregnancy to term.
Infertility is defined clinically as not being able to achieve pregnancy after 1 year of having regular, unprotected intercourse, or after 6 months if the woman is older than 35 years of age.
Many different medical conditions and other factors can contribute to fertility problems, and an individual case may have a single cause, several causes, or—in some cases—no identifiable cause.
NICHD scientists and others supported by the Institute are conducting research to identify both the causes of infertility and new treatments that may allow more men and women to achieve pregnancy and more women to deliver a live-born infant.
About Infertility and Fertility
"Infertility" is a term that describes when a couple is unable to achieve pregnancy after 1 year of having regular, unprotected sex, or after 6 months if the woman is older than 35 years of age.
"Subfertility" is sometimes used to mean the same thing as infertility, but they are slightly different. Subfertility means that pregnancy is likely to occur without medical intervention, but it takes longer than usual.1
The term "infertility" also is used to describe the condition of women who are able to get pregnant but unable to carry a pregnancy to term because of miscarriage (sometimes called clinical spontaneous abortion), recurrent pregnancy loss, stillbirth, or other problems.2,3
Recurrent pregnancy loss is considered distinct from infertility. Although there may be some overlap, the causes of pregnancy loss, recurrent pregnancy loss, and stillbirth are often different from the causes of infertility.
How common is infertility?
About 9% of men and about 11% of women of reproductive age in the United States have experienced fertility problems.1
In one-third of infertile couples, the problem is with the man.
In one-third of infertile couples, the problem can't be identified or is with both the man and woman.
In one-third of infertile couples, the problem is with the woman.
Studies suggest that after 1 year of having unprotected sex, 12% to 15% of couples are unable to conceive, and after 2 years, 10% of couples still have not had a live-born baby.2,3,4 (In couples younger than age 30 who are generally healthy, 40% to 60% are able to conceive in the first 3 months of trying.5)
Fertility declines with age in both men and women, but the effects of age are much greater in women. In their 30s, women are about half as fertile as they are in their early 20s, and women's chance of conception declines significantly after age 35.6 Male fertility also declines with age, but more gradually.
What are some causes of infertility?
When a couple experiences problems with fertility, the cause(s) can be multiple and overlapping. Problems in the male are just as likely as problems in the female, and it is equally likely that the cause is a combination from both partners.
In many cases, the exact cause of the infertility remains unknown or unexplained—a situation called idiopathic infertility.
Because so many things factor into infertility, this website can provide only a summary of the most common problems related to infertility for both males and females. In some cases, these causes or factors overlap and occur at the same time, compounding their effects on fertility.
If you have specific questions about your own fertility or infertility, you should talk with your health care provider.
What is fertility preservation?
Fertility preservation is the process of saving or protecting eggs, sperm, or reproductive tissue so that a person can use them to have biological children in the future.
What age-related factors may be involved with infertility in females and males?
Fertility naturally declines as females and males get older.
For instance, a female is born with all the eggs she will ever have naturally. Researchers currently believe that women are born with 1 million to 2 million eggs and that this number decreases throughout the lifespan. The decrease in fertility accelerates over time because of the reduction in the number and quality of eggs in the ovaries.1 The lower number of eggs leads to changes in hormone levels, which further reduces a woman's fertility. After a woman goes through menopause, there is no way for her to get pregnant naturally.
New research suggests that researchers may be able to create eggs from stem cells in the ovaries.2 The discovery of how to make eggs from stem cells could help women preserve their fertility or could remove age as a factor in infertility.
Increasing age also increases the risk for certain problems that can contribute to a loss of fertility.3 These include:
Tubal disease, a general term that describes any number of infections that affect the fallopian tubes
Genetic abnormalities of the remaining eggs, which can make them less viable or increase the likelihood that an infant will have conditions such as Down syndrome
In addition, lifestyle and environmental factors can combine with age-related factors to significantly decrease fertility.
As a woman ages, the risk increases for miscarriage and for having an embryo with abnormal chromosomes, which can lead to problems with development and loss of the pregnancy.4,5
In males, age is known to reduce the quality of sperm, which affects the sperm's ability to reach or fertilize an egg. Men also produce fewer sperm as they age.
Other age-related causes of reduced fertility in males include:
Genetic abnormalities of the sperm, which can reduce the chances of their partner becoming pregnant or increase the likelihood of miscarriage or of an infant having a condition such as Down syndrome
Erectile dysfunction, which can be affected by decreasing testosterone levels as a man ages or by medications for age-related conditions such as hypertension
Changes to the reproductive tissues or organs. For example, testicle volume decreases with age. Also, men may have an enlarged prostate, which can cause problems with ejaculations.
What are some possible causes of female infertility?
Getting pregnant and carrying a pregnancy to term are actually very complicated processes. Many things can go wrong during these processes to lead to infertility. For this reason, the following list includes only some of the common causes of infertility in females; it is not meant to be all-inclusive. A woman who is having difficulty getting pregnant or carrying a pregnancy to term should talk with her health care provider about possible treatments.
When should I consult a health care provider?
Couples should consult with a health care provider about fertility problems if they have had unprotected sex for 1 year without a successful pregnancy.
Exceptions to this recommendation apply to:
Women older than age 35 who have had 6 months of unprotected sex without a successful pregnancy
Women who suspect they may have underlying problems that will affect fertility, such as irregular periods
Individuals who have been diagnosed with specific conditions that are known to reduce fertility
How is infertility diagnosed?
Health care providers evaluate men and women differently to diagnose infertility.
What are some possible causes of male infertility?
Men can also contribute to infertility in a couple. In fact, men are found to be the only cause or a contributing cause of infertility problems in couples in about 40% of cases.1
To conceive a child, a male's sperm must combine with a female's egg. The testicles make and store sperm, which are ejaculated by the penis to deliver sperm to the female reproductive tract during sexual intercourse.
The most common issues that lead to infertility in men are problems that affect how the testicles work. Other problems are hormone imbalances or blockages or absence of some of the ducts in the male reproductive organs.2Lifestyle factors and age-related factors also play a role in male infertility.
A complete lack of sperm is the cause of infertility in about 15% of men who are infertile. When a man does not produce sperm, it is called azoospermia (pronounced ay-zoh-uh-SPUR-mee-uh). A hormone imbalance or a blockage of sperm movement can cause azoospermia.3
In some cases of infertility, a man produces less sperm than normal. This condition is called oligospermia (pronounced OL-ih-goh-SPUR-mee-uh) or a low sperm count. The most common cause of oligospermia is varicocele (pronounced VAR-ih-koh-seel), an enlarged vein in the testicle.
What infertility treatments are available?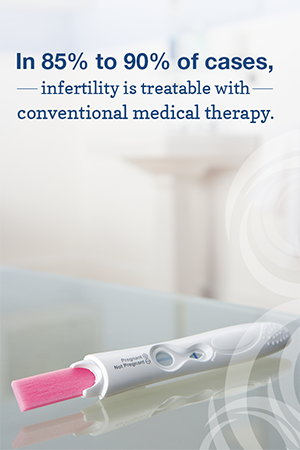 Treatments for infertility can range from medications to embryo implantation through assisted reproductive technology (ART). There are treatments that are specifically for men or for women and some that involve both partners. In 85% to 90% of cases, infertility is treated with conventional medical therapies, such as medication or surgery.1
If fertility treatments are unsuccessful, it is possible to use eggs or sperm donated by a third party or to have another woman carry a fetus. Select a category of treatment to learn more.
Fertility Treatments for Males
Fertility Treatments for Females
Assisted Reproductive Technology (ART)
What do we know about idiopathic or unexplained infertility in females and males?
When health care providers cannot find a specific or even likely cause for infertility in females or males, they will diagnose the infertility as "idiopathic" or unexplained.
This diagnosis applies to about 30% of female infertility cases1 and about 50% of male infertility cases.2
In some cases, however, knowing the exact cause may not be necessary. The health care provider may begin treatment to improve the chances of conception, including fertility treatments, even if no cause can be identified.
What lifestyle and environmental factors may be involved with infertility in females and males?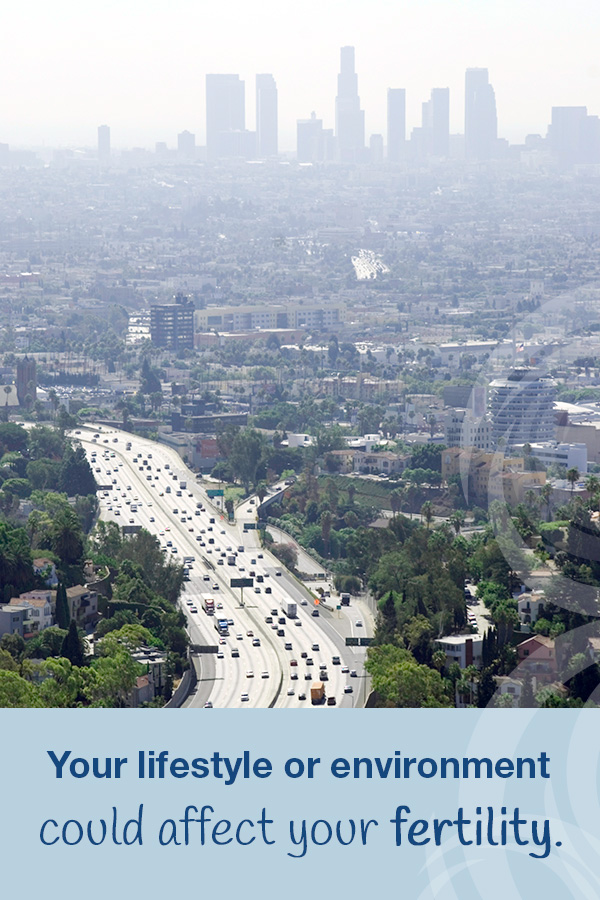 Research consistently shows that lifestyle factors—what you eat, how well you sleep, where you live, and other behaviors—have profound effects on health and disease. Fertility is no exception.
A number of lifestyle factors affect fertility in women, in men, or in both. These include but are not limited to nutrition, weight, and exercise; physical and psychological stress; environmental and occupational exposures; substance and drug use and abuse; and medications.1
For example, research shows that:
Obesity is linked to lower sperm count and quality in men.
Among women with obesity who have polycystic ovary syndrome (PCOS), losing 5% of body weight greatly improves the likelihood of ovulation and pregnancy.
Being underweight is linked to ovarian dysfunction and infertility in women.
Strenuous physical labor and taking multiple medications are known to reduce sperm count in males.2
Excessive exercise is known to affect ovulation and fertility in women.
Research shows that using body-building medications or androgens can affect sperm formation.
Substance use, including smoking tobacco, using other tobacco products, marijuana use, heavy drinking, and using illegal drugs such as heroin and cocaine reduce fertility in both men and women.
Having high blood pressure changes the shape of sperm, thereby reducing fertility.2
The type of underwear a man chooses is not related to his infertility.3
Radiation therapy and chemotherapy can cause infertility in females and males. Those who have to undergo these types of treatments may want to consider fertility preservation.
NICHD research also shows that exposure to persistent organic pollutants and endocrine-disrupting chemicals (EDCs) in the environment can also affect male and female fertility.
Persistent organic are currently used or were formerly used in industrial processes and remain in the environment much longer than other chemicals. Animal studies suggest that exposure to certain persistent organic pollutants affects fertility. NICHD's Longitudinal Investigation of Fertility and the Environment (LIFE) Study is examining whether exposure to persistent organic pollutants affects the length of time it takes for couples to become pregnant, a measure of fecundity. It is the only study to measure chemicals in both partners and to follow couples trying to become pregnant for 1 year.
So far, the study has found that certain kinds of organochlorine pesticides and many polychlorinated biphenyls (PCBs) were linked to increased time-to-pregnancy or decreased couple fecundity.4 The study found that many chemicals only affected time-to-pregnancy when found in high levels in the male partner, whereas other chemicals only affected fecundity when detected in the female partner. Other studies have linked exposure to TCCD dioxin and select polybrominated diethers and perfluorochemicals to reduced fecundity.5
EDCs alter the function of the hormonal system, a key component in fertility. The LIFE study found that the EDC methyl paraben affects fertility in women, while phthalates and the UV filter benzophenone-2 affect fertility in men.6,7,8
Assisted Reproductive Technology (ART)
ART refers to treatments and procedures that aim to achieve pregnancy.
These complex procedures may be an option for people who have already gone through various infertility treatment options but who still have not achieved pregnancy. Those interested in ART should discuss the options with their health care provider and may need to consult a fertility specialist.
Some ART options include the following.
The Centers for Disease Control and Prevention (CDC) compiles annual reports on the success rates of ART.
Fertility Treatments for Females
Once a woman is diagnosed with infertility, the overall likelihood for successful treatment is 50%.1
Whether a treatment is successful depends on:
The underlying cause of the problem
The woman's age
Her history of previous pregnancies
How long she has had infertility issues
The presence or absence of male factor infertility
Fertility treatments are most likely to benefit women whose infertility is due to problems with ovulation. Treatment with medications is least likely to benefit infertility caused by damage to the fallopian tubes or severe endometriosis, although in vitro fertilization can help women with these conditions to conceive.1
The first step of treating infertility in many cases is to treat the underlying cause of infertility. For example, in cases where thyroid disease causes hormone imbalances, medication for thyroid disease may be able to restore fertility.
NICHD Infertility and Fertility Research Goals
Addressing issues related to infertility in both men and women is a central part of the NICHD mission. The Institute conducts and supports research on various aspects of infertility, including:
Causes of infertility
Therapies for treating infertility
Demographics of infertility and its treatments
Economic impact of infertility and its treatments
Conditions and disorders that cause, contribute to, or are associated with infertility
Fertility as a sign of overall health
NICHD also supports several networks that study fertility/infertility and provides programs to train investigators in infertility research.
Fertility Treatments for Males
Treatment with Medication
Medication can treat some issues that affect male fertility, including hormone imbalances and erectile dysfunction.1
Treatment with Surgery
Surgery can be effective for repairing blockages in the tubes that transport sperm from the testicles to the penis. Surgery also can be used for repair of varicocele, or varicose veins, in the testicles. Current research suggests that surgical repair of varicocele can improve health of sperm, but it has not affected the chances for conception.1
If surgery does not restore fertility, ART can be effective.
Infertility and Fertility Research Activities and Advances
Infertility affects both men and women and can stem from a number of causes. A variety of treatments for infertility are available, but they are not all effective for all individuals.
Addressing the issues related to infertility in both men and women is a central part of the NICHD mission. To this end, NICHD conducts and supports research on fertility, the causes of infertility, treatments to help individuals with infertility achieve pregnancy, and other topics.
Treatments for Diseases That Cause Infertility
Specific treatments for diseases that sometimes cause infertility can sometimes also improve fertility. This section focuses on three specific conditions; visit What are the treatments for uterine fibroids? for more information on how treatments for uterine fibroids might also affect fertility. Treatments for other diseases, such as thyroid disorders, may also improve fertility in women who have them.